WHO WE ARE?
Flexibreaks has been in operation for more than 25 years and offers members a spectacular range of discounted HOLIDAY & TRAVEL benefits WITH SAVINGS UP TO 60% on accommodation, car hire, bus trips, trains, cruises and much more… throughout South Africa, Malawi, Botswana and Zimbabwe.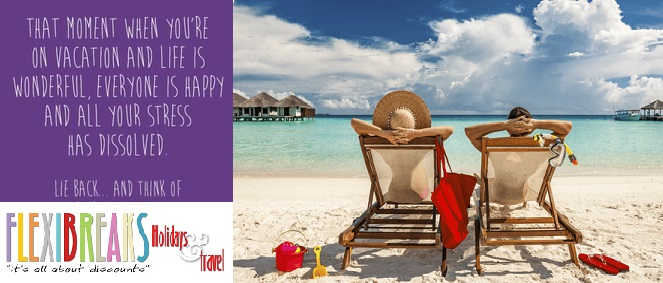 Why pay today's exorbitant and expensive holiday costs when being a member of Flexibreaks entitles you to fantastic discounts of thousands of rand's plus let you enjoy prices you can now easily afford.
Visit Cape Town's stunning beaches, the splendor of the Drakensberg or relax at a well-known resort with your family.
NO POINTS – NO FULL RATES – NO LIMITS !
HOW DO I QUALIFY?
Easy. If not a member, register and pay for your membership today by applying through our SECURE payment gateway. Already a member? Submit a quote request online or contact Flexibreaks direct on 011 9742626 to speak to a travel consultant. Our membership cost is affordable at only R799.00 per year!
Flexibreaks caters for a wide range of clientele and guarantee each member and his/her immediate family absolute satisfaction and value for money. Members have the flexibility to choose the type of holiday or travel benefit which suite their requirements and budget. PLUS ENJOY UNLIMITED RESERVATIONS.